MANILA, PHILIPPINES — Toni Gonzaga made it to the trending topics last night as she released a statement of her exit as the main host of PBB after 16 years. The PBB Management was also quick to respond to Toni's announcement, saying that they respect her decision.
On her socials yesterday night (February 9), Toni Gonzaga once again became a trending topic as she shared an official statement saying goodbye to her PBB family as the main host after 16 years.
"It has been my privilege to greet you all with "Hello Philippines" and "Hello World" for the last 16 years," the statement said. "Thank you Kuya for everything. This is your angel, now signing off…"
Fans and everyone else on social media were speculating the reasons why the long time actress and host decided to leave PBB.
After her announcement, the PBB Management was also quick to release their message on their official accounts online.
The statement said, 'We respect the decision of Toni Gonzaga-Soriano to step down as main host of "Pinoy Big Brother."'
February 9, 2022
Just recently, on Tuesday (February 8), Toni hosted the BBM-Sara rally in the Philippine Arena to kick off their elections 2022 campaign. This act shows her clear support to the UniTeam tandem, which resulted in the star trending on social media. This sparked plenty of debate from fans and bashers that supported opposing candidates for the presidential and vice-presidential elections.
But, Toni was not the only celebrity to show her support for the BBM-Sara tandem, as actress and singer Karla Estrada also showed up at the rally, performing a song for the audience. Other stars also made their presence known in different rallies, supporting their candidates such as Cherry Pie Picache in the Leni-Kiko rally, Freddie Aguilar in the Pacquaio-Atienza rally, and Vic Sotto in the Lacson-Sotto rally.
#UnbotheredQueenToniG
The hashtag #UnbotheredQueenToniG also trends on Twitter on the morning of February 9 as fans campaign to stop cancel culture. It's also known that Toni is an advocate to stop cancel culture, expressing that "No matter how many people or how many times you were cancelled by other people, what's important is you never cancel yourself."
Toni is right, even though many people have a plan to overthrow you as a person, you have to stand up. Life goes on no matter what happens and don't be discouraged. At a time when you can't stand that test, that's your biggest failure.
STOP CANCEL CULTURE#UnbotheredQueenToniG pic.twitter.com/Y7OBmaYaX2



— Mr.Winwin_Situation (@WinwinEklabu) February 9, 2022
Is Toni's exit related to her showing support for the BBM-Sara tandem? There are not a lot of reliable information yet, but other celebrities were quick to show their support for Toni. One of which is Mariel Padilla, another former host of PBB, saying, "I love you toni. You are a friend and a sister FOREVER ❤️ welcome to the outside world, toni."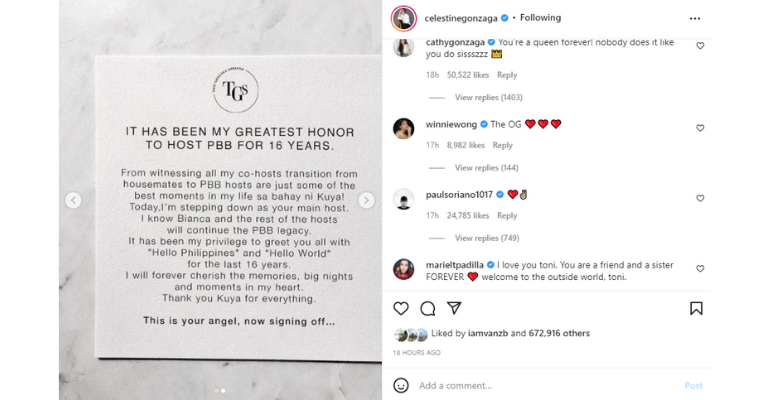 – WhatALife!
---
Also Read: Proclamation Rally 2022: Where, When, and Who Are The Celebrity Guests