On October 16, people across the globe celebrate World Food Day, themed "Our Actions Are Our Future." The Food and Agriculture Organization (FAO) of the United Nations centers the theme around the idea that by making sustainable diets and eating habits affordable and accessible to the general public, we are also nurturing the planet. Moreover, by reducing unhealthy eating habits, each individual helps cut down on the excess costs on national health budgets every year. The current Filipino diet mostly consists of carbohydrates from rice and noodles paired with dishes made from local vegetables, pork, and seafood. Filipinos also indulge themselves with Chinese, American, and Western-influenced cuisine. In order to maintain a healthy diet, the country has divided its nutritional basis into 6 groups. These are groups of leafy vegetables, fruits, and vegetables rich in Vitamin C, succulent fruits and vegetables, fat-rich food, proteins, and grains.
Dr. Imelda Agdeppa from the Department of Science and Technology-Food and Nutrition Research Institute (DOST-FNRI) analysed the Filipino's food and nutrient intakes. She found that 42% of adults aged 19 to 49 are deficient in protein. Her research also stated that one out of five Filipino children eat fruits and one out of two children eat vegetables. These records, among other
statistics
, show the country's need for improvement.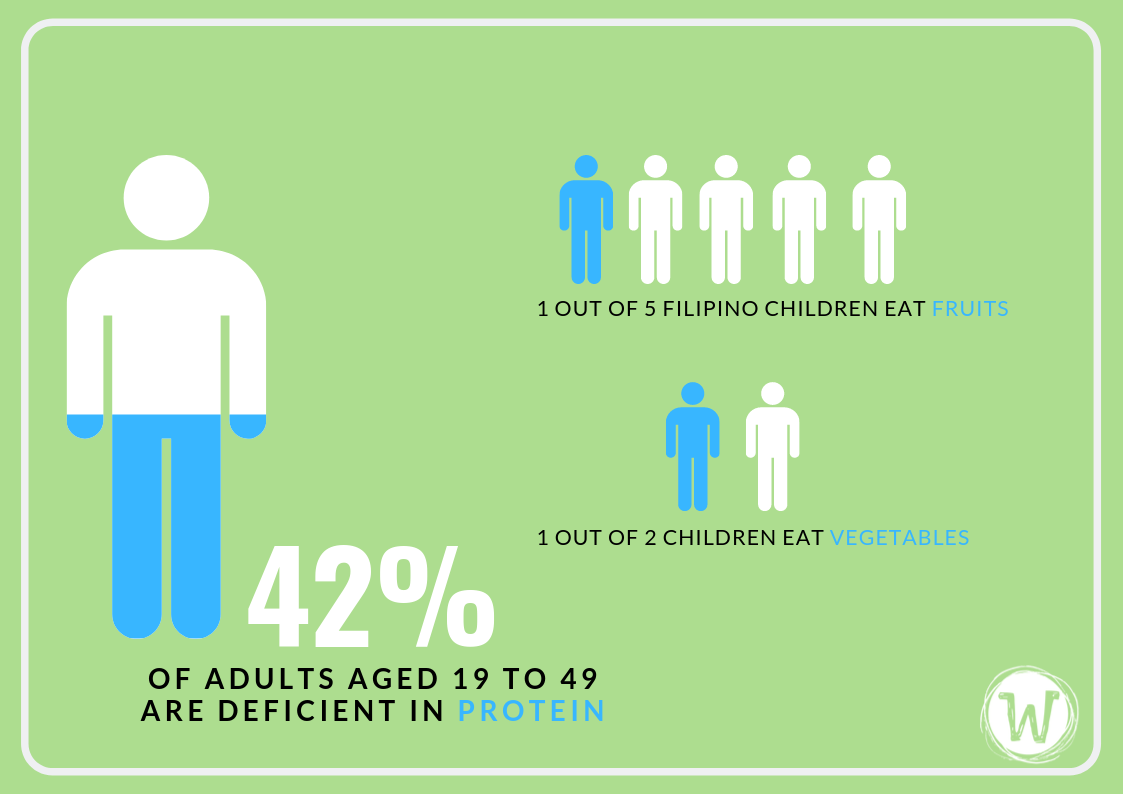 In an effort to increase promote health and wellness in the Philippines, the FAO has aligned its projects with 17 Sustainable Development Goals (SDGs). This course of action is a step closer to achieving their
2030 Agenda
to "end poverty, hunger and malnutrition, enable sustainable development in agriculture, fisheries and forestry, and combat and adapt to climate change."
Ranking 70th out of 117 qualifying countries in the
2019 Global Hunger Index
, the Philippines suffers from a serious hunger level with its 20.1 scores. This is an improvement considering its previous scores of 25.9 in 2000, 21.6 in 2005, and 20.6 in 2010. Furthermore, the under-five mortality rate has decreased from 2010's score of 3.2 to 2.7 in 2018. Meanwhile, the prevalence of wasting in children under five years (exemplified by having low weight for their height) has gone down from the 2010s 7.3 scores to 7.1 in 2018. Additionally, the prevalence of stunting in children under five years (as identified as having low height for their age) has also lowered from the 2010s 33.6 scores to 33.4 in 2018. However, the proportion of undernourished in the population (people who have insufficient caloric intake) has increased from 2010's score of 13.3 to 2018's 13.7. On the other hand, the Philippines ranks 70 out of 113 indexed countries on the
Global Food Security Index
with an overall score of 51.5 as of October 2018. Breaking it down, that displays scores of 46.3 for affordability, 55.6 for availability, and 52.9 for quality and safety. Looking at the year-on-year trends, the country has increased its overall score by 2.3 points from 2017's 49.0. For comparison, Singapore ranked first in the global ranks with an overall score of 85.9.