Happy Holidays!
Everyone is advised to settle their bill payments and other bank transactions ahead of the holidays since most of the Philippine banks will be closed.
Check out below the list of advisories from the banks that have so far announced their schedules for 2020 holidays:
There will be no trading on the following Legal Holidays, including Christmas Eve (Special Non-working), Christmas Day, Rizal Day, New Year's Eve (Special Non-working), and New Year's Day. Please schedule your transactions ahead of time to avoid inconvenience.
Our branches will be closed on December 24, 25, 30, and 31, 2020, and January 1, 2021. Please settle bills payments and government transactions before the holidays. Standard clearing cut-off times will be followed.
Our digital channels—BPI Online, Mobile app, ATMs, and Cash Accept Machines (CAMs—remain accessible for your everyday banking needs. Furthermore, there will be no trading and online forex transactions on holidays and weekends.
To enjoy a hassle-free holiday season, please plan your transactions ahead.
China Bank will continue to serve customers this holiday season. Select branches, mostly those located in malls, will be open on shortened banking hours on the declared holidays: Christmas Eve, December 24; Rizal Day, December 30; and New Year's Eve, December 31. Please click here for more details on the Bank's holiday banking schedule.
For transactions that do not require a branch visit, clients can bank safely and conveniently through 1,021 China Bank and China Bank Savings ATMs nationwide, or from home through China Bank Online, China Bank Mobile App, and China Bank Tellerphone, available 24/7, 365 days a year.
For China Bank mall branches with Saturday banking schedule, it's business as usual on December 26, 2020 and January 2, 2021.
Amid the pandemic and community quarantines, China Bank is committed to providing the needed banking services while ensuring the safety and well-being of its employees and customers. Health and safety standards are strictly observed at all China Bank branches and offices.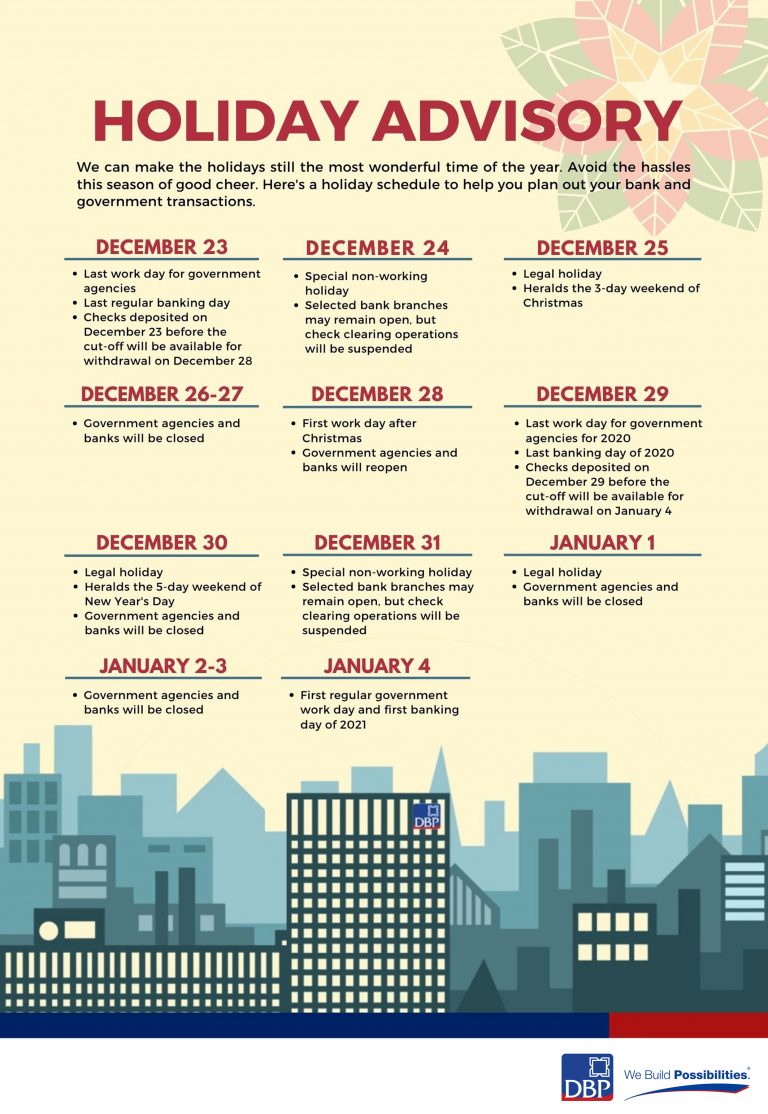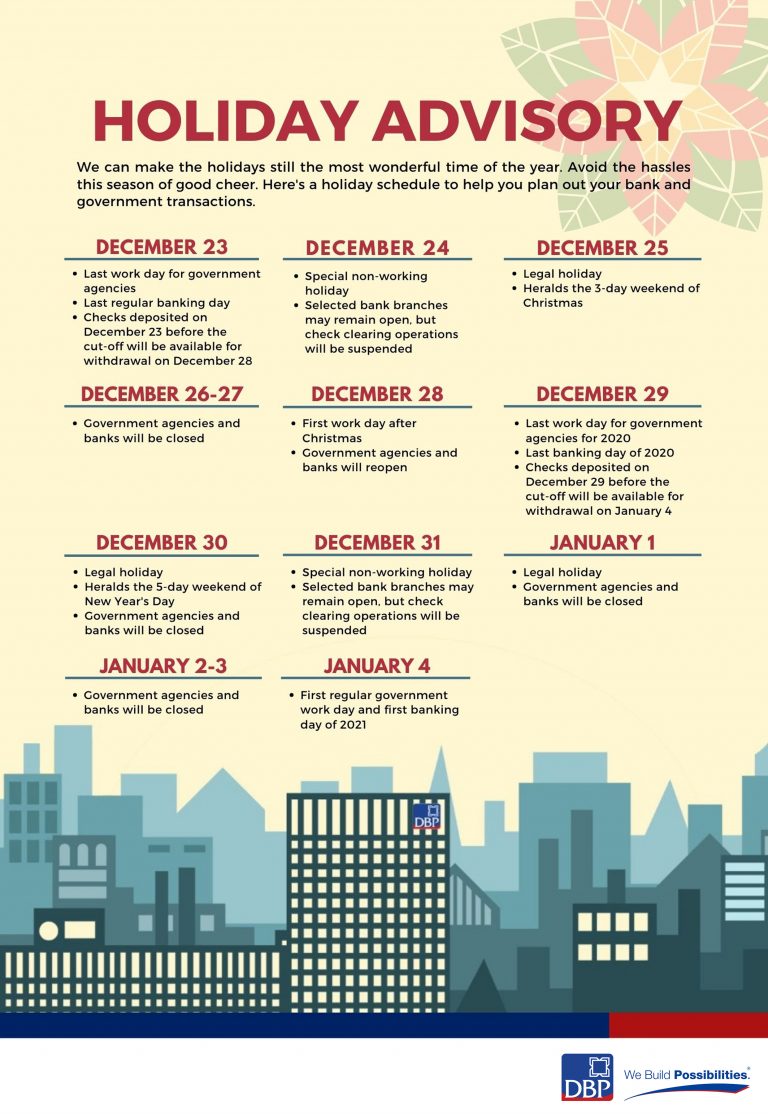 LANDBANK branches nationwide will be OPEN on December 23, 2020, to serve your banking needs, while selected branches/branch-lites will be CLOSED. Banking hours of our branches may also vary.
For a complete list of OPEN and CLOSED LANDBANK branches/branch-lites, and their operating hours, please visit this link: https://www.landbank.com/advisory/list-of-open-branches-23-december-2020
Some Metrobank branches will be closed to celebrate Christmas, while others will have shortened banking hours on December 24 and 25. Please check the list of closed branches here: https://metrobank.com.ph/closed-branches
You can still use the Metrobank Online and Metrobank Mobile App for your banking needs. Remember to observe social distancing and proper hygiene and protection when you withdraw and deposit money at Metrobank ATMs and CAMs.
Avoid the holiday rush. Plan and make your banking transactions early. Our branches will be open to serve you during the holidays.
Selected PNB branches will be OPEN to serve you during the holidays. Our ATMs, Cash Accept Machines, and PNB Digital Banking will remain available 24/7 for your banking needs. Check out the complete schedule of PNB branches at https://www.pnb.com.ph/holidaybanking.html
Bank safely from home using our online app bit.ly/RCBCMobile to avoid the holiday rush. But if you can't avoid your banking transactions, selected branches will be open to assist you this holiday season.
See here the list of RCBC holiday banking schedule: https://www.rcbc.com/news/2020-holiday-banking-schedule
Please be advised of our branches' schedule during the holiday season. Our branches are open on the following dates:
December 21 to 23, 2020
December 28 to 29, 2020
All our branches will be closed on the following dates:
December 24, 2020 (Thursday)
December 25, 2020 (Friday)
December 31, 2020 (Thursday)
January 1, 2021 (Friday)
Six provincial branches will be open on December 30, 2020, and January 2, 2021 (see here). The rest of our branches will be closed on those dates.
NOTE: We will update this page as more schedules become available. Please refresh
—