If you need a copy of a relative's death certificate, here is a detailed tutorial on obtaining a PSA death certificate online via PSAHelpline.ph.
Estimated reading time: 6 minutes
A death certificate is crucial while arranging a loved one's final affairs after passing. This paper is the sole official documentation of a person's passing.
In the Philippines, there are several justifications for requesting a death certificate. In addition to being a necessary document for planning a funeral, it serves as support when requesting insurance and pension benefits and settling an estate.
If you're in charge of your loved one's affairs after their passing, you should be aware that obtaining a death certificate isn't particularly difficult. There are several specifics you must remember, though. This post will go through how to get a death certificate online.
What is a Death Certificate?
It is a legal document that includes the deceased's name, address, and date of death and has been signed by a licensed physician who has the right to determine the time, date, and manner of death.
Once all of the information on the death certificate is complete, it is delivered to the Local Civil Registry Office (LCRO) of the city or municipality where the deceased was born to be appropriately registered. Once the LCRO submits the record to the Philippine Statistics Authority (PSA) for approval, you may now ask for the death certificate.
How to Request a PSA Death Certificate Online?
You can request a death certificate online at PSAHelpline.ph if you don't have the time to walk out and submit the application in person. PSA Helpline would facilitate the application process. It is approved by the PSA to issue death certificates.
PSA Online Application Procedure
Step 1. Press the "Order Now" button on the right side of the screen on the homepage of PSAHelpline.ph. Alternatively, select "Order Now" from the header's menu.


On the following page, press the "Death" button. Then, in accepting the terms and conditions, check the box at the bottom and click "Continue."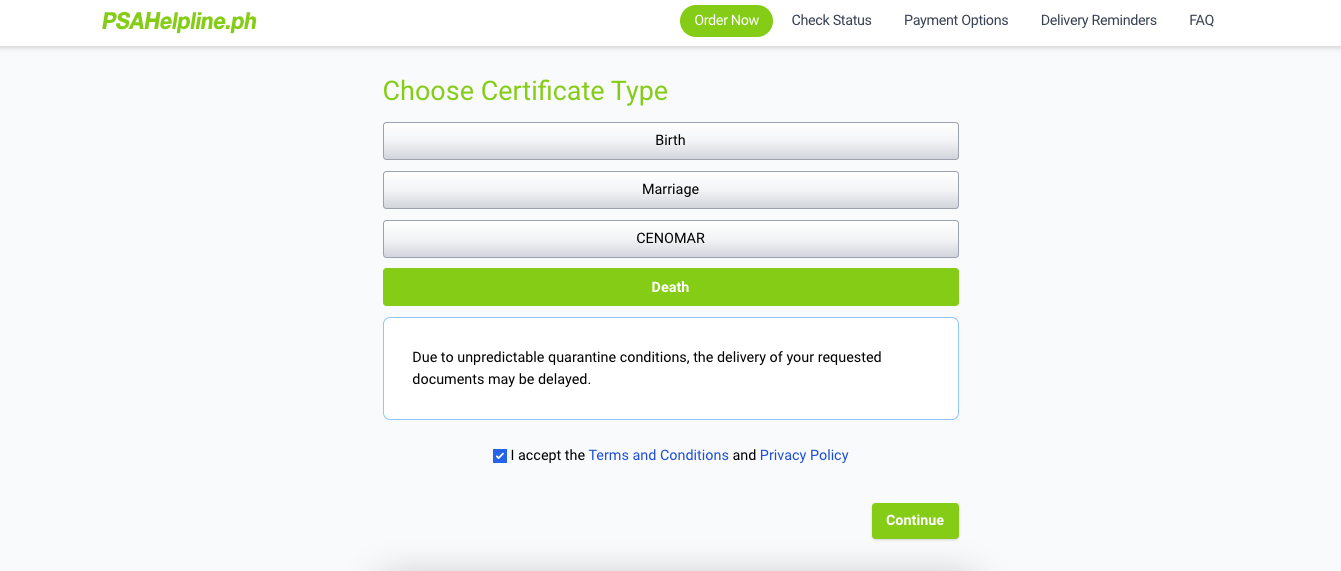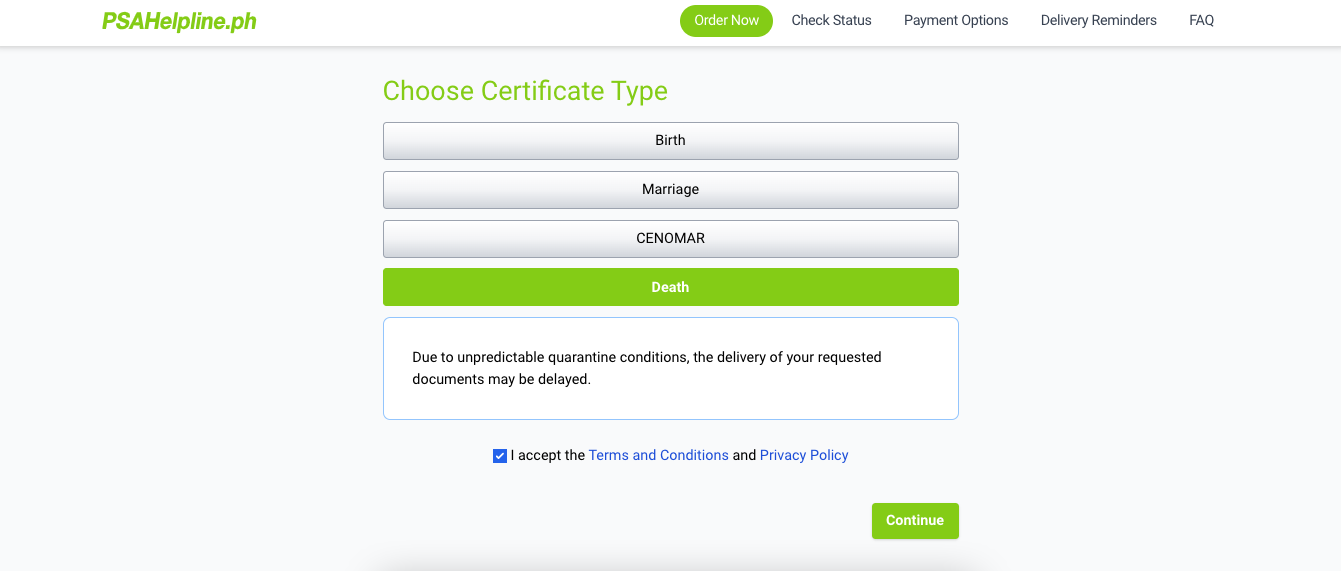 Step 2. You will see a screen asking for the name of the person whose death certificate you are obtaining. Click "Continue" after you've selected anything.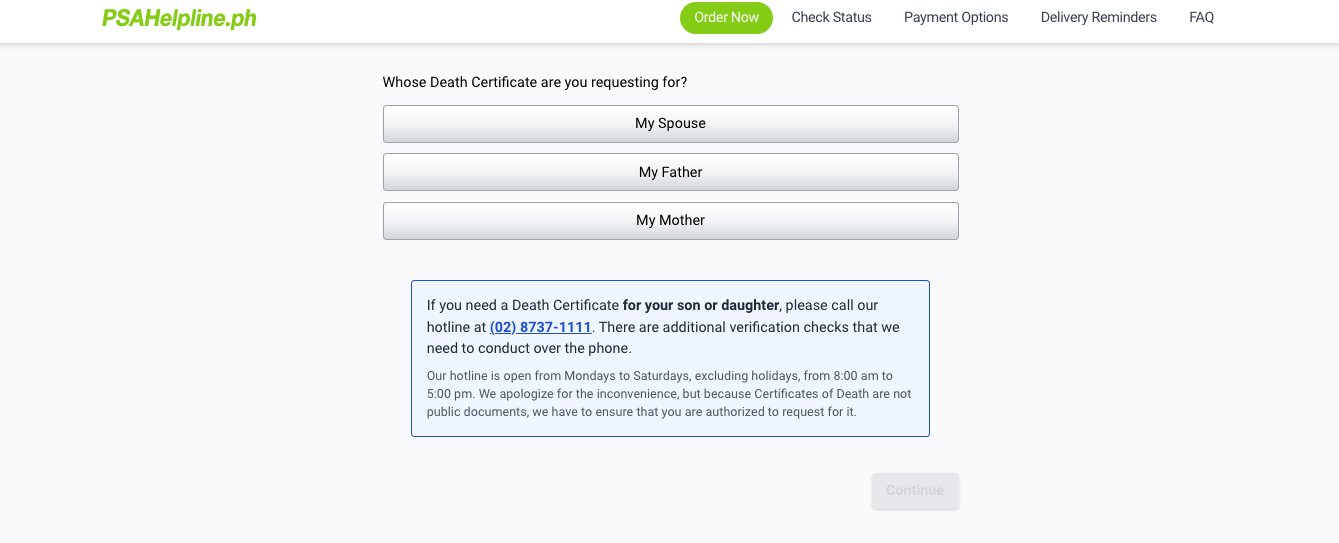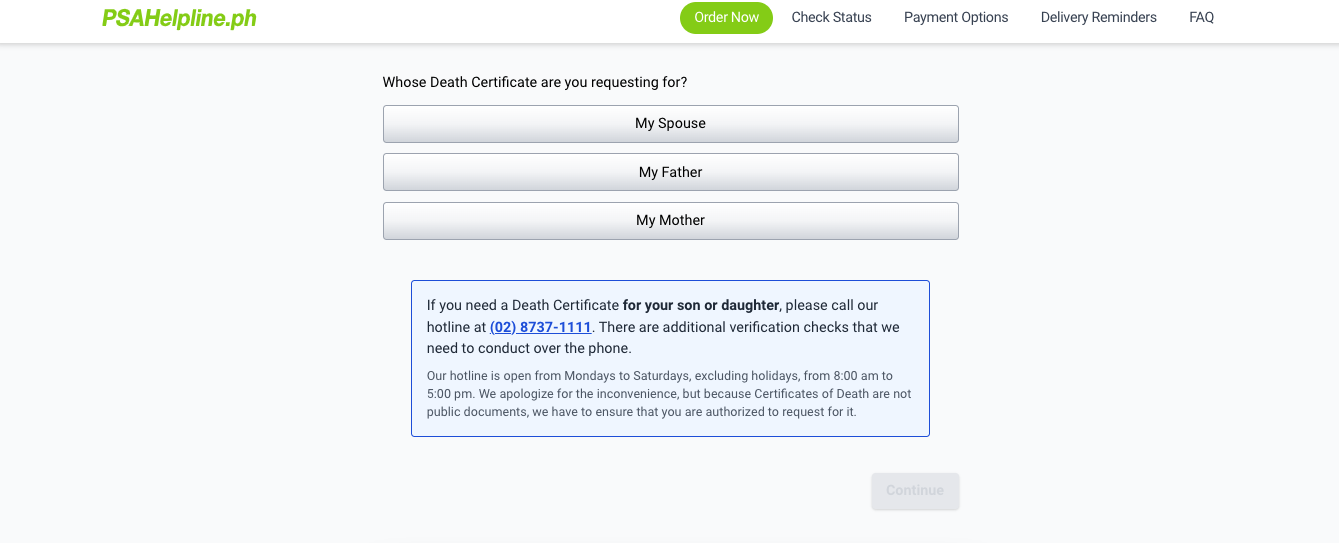 The information PSAHelpline.ph will get from you is displayed on the next page. Before starting the procedure, ensure you have the necessary data. Then click "Continue."
Step 3. The next page poses specific questions to you regarding your first name, middle name, last name, birth date, sex, civil status (if you are a woman), and the kind of your government-issued ID, click "Continue" once the form has been submitted.
On the next page, write the name and civil status of the individual whose death certificate you claim. Click "Continue" when finished.
Step 4. Enter the deceased person's death date on the following screen and click "Continue."
Indicate the location of death on the next page, then click "Continue."
Step 5. If the death certificate were recorded late, the question on the next page would inquire. If the answer is yes, pick "Yes, it was registered late," and if the answer is no, choose "No, it was registered on time."
The next page will ask to explain why you need a copy of the death certificate on the next page. Select your choice, then press "Continue."
Step 6. Next, mention if the deceased was the subject of ongoing legal actions. Click "Continue" once you've made your decision.
Step 7. The last three fields are your delivery address, mobile number, and email address.
Additional information to remember
Verify that the information on your ID matches your name and birthday. Take note that you will be asked to show your ID when you receive the death certificate.
Use a location where you may directly get the desired PSA document.
If you are under 18, you are not permitted to ask for a copy of a death certificate.
Fees and Payment Options for Online Applications
After completing the PSA death certificate online application form, you will be given a Reference Number, which you may use to verify the payment alternatives available. PSAHelpline.ph's current payment partners are:
Visa
GCash
7-Eleven
PayMaya
Bayad
The Palawan Express
Dragonpay
BancNet
BPI
BDO
Metrobank
A PSA death certificate is Php 365.00 to purchase in one copy. You can pay using any of the following methods:
For real-time payment posting, you can use a Mastercard or Visa card. As of this writing, JCB and American Express cards are not supported.
Go to a BancNet ATM to pay for your online application cost. Then, to settle the payment, select the Bills Payment option. Depending on the bank, payment posting may take a day or two.
If you have a GCash account, you may pay using the e-wallet option for a simple transaction.
You may pay for your request at a 7-Eleven using a CLIQQ machine.
If you prefer to pay with a Bayad or TouchPay machine, see the list of Bayad shops.
PayMaya e-wallet users may use the app to make payments for free.
You may quickly check the status of your request by selecting the "Check Status" button in the header and entering your 10-digit reference number.
Delivery Reminders
Within Metro Manila, delivery takes three to four working days. If the recipient's address is outside Metro Manila, your document may arrive within three to eight working days.
You will be asked to produce one valid government-issued ID to the courier upon delivery of your requested PSA document.
You must physically receive the PSA document. Even with an authorization letter, the courier will not distribute the order to anybody else. If you are not accessible on the delivery date, don't hesitate to contact PSAHelpline.ph at (02) 8737-1111, Monday through Saturday (excluding holidays), from 8:00 AM to 5:00 PM, via email at help@psahelpline.ph or on Facebook at PSAHelpline.ph.
All papers that have not been delivered after two tries will be returned to the PSA after 30 calendar days, and any payments received for the documents will be forfeited. You can place a fresh order at PSAHelpline.ph.
FAQs
How can I fix a typo in the deceased's first name on the death certificate?
Under Republic Act 9048, you or your attorney may submit a petition for the rectification of entry. In addition, the deceased's spouse, children, parents, siblings, grandparents, guardians, or other legally qualified parties may file the petition. They can submit the petition through a migrant petition at any LCRO or the LCRO where the certificate was recorded.
Although I've already paid for it, I haven't yet gotten the Certificate of Death. When would I get it?
Check your application's status first. Following that, confirm the local delivery window. Then, call (02) 8737-1111 from 8:00 AM to 5:00 PM, Monday through Saturday (excluding holidays), if the delivery is running late. For assistance, contact PSAHelpline.ph. via email at help@psahelpline.ph or through a live chat feature on its Facebook page. –WhatALife!/Brix
---
Also read: How to request a PSA Certificate of Marriage online?