The pediatric vaccination of the age group 5 to 11 years old has commenced on February 14, 2022, in Cagayan de Oro City. However, as of writing, only 743 children have been vaccinated. In addition, there are 98,893 kids under the specific age group in the city. Therefore, the City Health Office, headed by Dr. Ted Yu Jr., asks the parents to register their kids for vaccination in CDO to keep them safe.
For any concerns about kids' vaccination, you may find this post helpful: COVID-19 Vaccine for Kids: Everything you need to know.
Registering your kids follows the same steps as when registering for your own vaccination.
Step 1. Visit the official COVID-19 vaccination pre-registration page of Cagayan de Oro City.
Visit the website https://services.cagayandeoro.gov.ph:8087/vaccprereg/ to get started.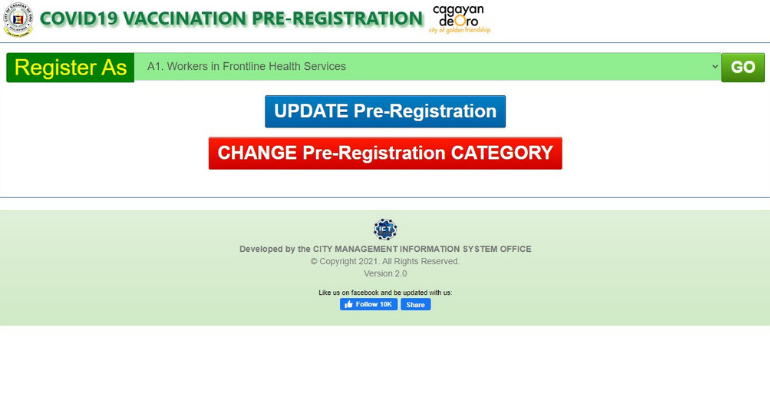 Step 2. Choose the category E1 for ages 5 to 11 years old.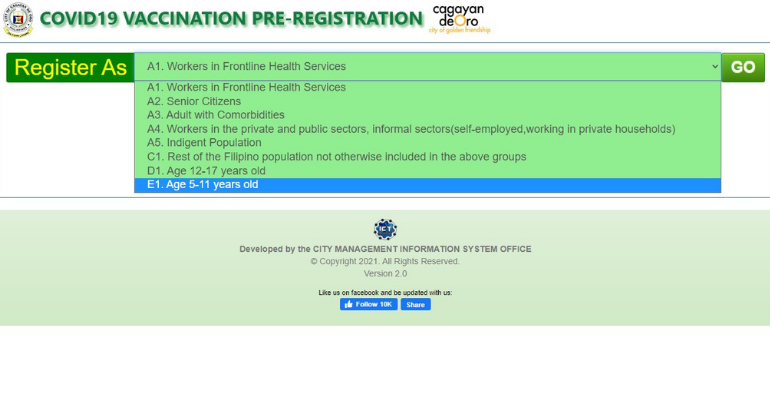 Step 3. Identify your child's Sub-Category.
The sub-category will determine whether your child has comorbidity or not.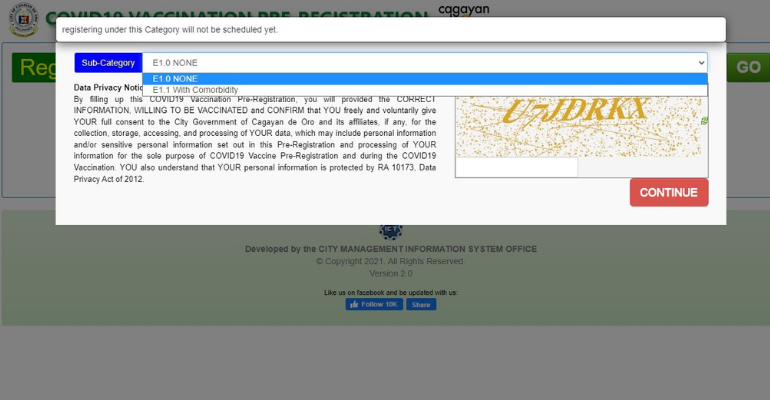 Step 4. Fill the box with the auto-generated code and click continue.
Step 5. Fill in all the required information related to your child.
Please ensure to be as honest as possible when filling out all the required details.
Step 6. Wait for confirmation of your child's vaccination schedule.
As of the moment, kids' vaccination in Cagayan de Oro City is strictly scheduled, and no walk-ins are allowed. So, please wait for a confirmation text about your child's schedule which contains the when and where of their vaccination.
What to expect when kids get vaccinated?
After vaccination, health professionals monitor kids for 15 to 30 minutes. This is to see whether they are experiencing any allergic reactions that require immediate treatment.
Many vaccination sites also offer fun activities for kids during and after vaccination. For instance, superhero characters may come and reassure your child, helping them gain courage for the shot. In the Centrio Ayala vaccination site, they offer treats such as ice cream and cotton candy after vaccination.
Are there any side effects?
Just like with adults, some children will experience the usual side effects such as pain in the vaccine shot area, fatigue, headache, or fever. However, in a report by DOH, out of the 52,000 kids vaccinated since the start of the vaccine rollout, only 4 experienced mild side effects.
All children were taken care of by the health professionals on-site and sent home the same day.
So, register your kids for vaccination in CDO today! – WhatALife!
Source: (City Information Office)