Under the Advisory on Concerts and Other Public Events and Gatherings, issued by Department of Health Secretary Francisco T. Duque III, the Department of Health – Center for Health Development Northern Mindanao (DOH-CHD-NM) strongly urges the public "to avoid attending, participating in, and organizing events that draw a huge number of attendees." The DOH-CHD-NM advised the cancellation of planned events and mass gatherings to control the increasing number of coronavirus disease 2019 (COVID-19) infected in the country. Government and private offices are further advised to implement safety measures to contain the spread of the virus, including:
To provide alcohol and/or hand sanitizer in all offices;
To practice regular disinfection activity in the workplace;
To provide a mask for employees with respiratory symptoms such as cough and colds, and advise them to seek medical consultation; and
To conduct body temperature scanning to all clients and employees.
Full Advisory released on Thursday via
Facebook Page
: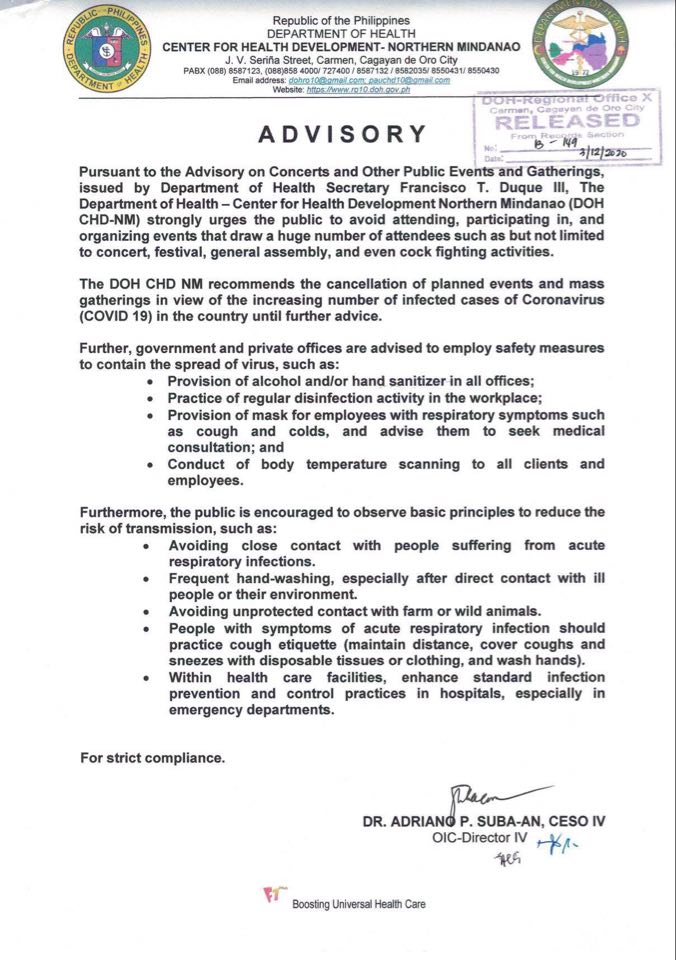 In a reiteration of previous advisories, the public is continuously encouraged to observe basic principles of good hygiene to reduce the risk of transmission.